At Terrano Plumbing and Remodeling we pride ourselves on offering only the best to our Fort Lauderdale customers. Our plumbing professionals offer skilled maintenance, repair and installation for any plumbing, restoration, or remodeling projects in Ft. Lauderdale. Terrano Plumbing & Remodeling is confident that we can produce results you will be confident in, while backing our work with a premium team of technicians, as well as top-of-the-line and cost-effective products in South Florida.
Terrano Plumbing and Remodeling is a family owned business located in South Florida that offers full service plumbing, bathroom remodeling, and kitchen remodeling to our clients. We are fully licensed and insured, and our technicians are the most knowledgeable and talented specialists in the industry. Why pay top dollar for inadequate plumbers and remodelers? Deal with a true professional that will give you the confidence you are looking for in your next plumbing or remodeling project. Call us at 561-477-3197 or contact us online today to meet with one of our welcoming and experienced experts.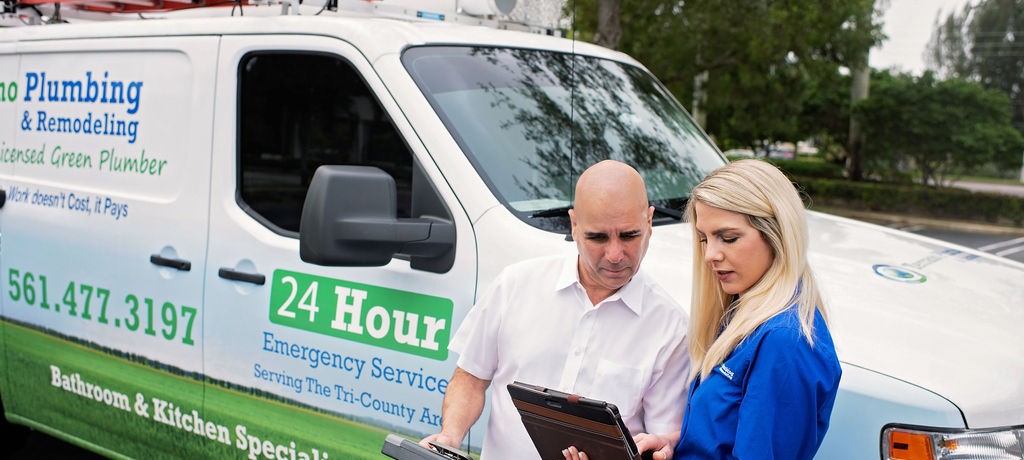 As South Florida`s 1st Licensed Green Plumber, we are proud to promote environmental plumbing results, and we are a founding member of the Green Plumbers USA licensing program. By putting your confidence in our experienced team of professionals, you not only will go green, but also save some green. We continue to raise the bar on green plumbing awareness throughout South Florida and its surrounding counties (Broward, Palm Beach). Our adept team can review your plumbing systems to optimize for efficiency, minimizing your effect on the environment, while saving you money. As a Licensed Green Plumber, we assist homeowners and businesses with examining their water and energy spending, further providing responsibility and reassurance for maintained efficiencies. Ask us how you can Go Green, Save Some Green.
We offer a variety of plumbing services in the Fort Lauderdale area:
REQUEST PLUMBING SERVICE IN FORT LAUDERDALE NOW!
Why Choose Terrano Plumbing & Remodeling?
When you work with Terrano Plumbing and Remodeling, you are choosing to work with our outstanding plumbing team that is equipped with the highest level of trained and certified industry professionals. Our attention to detail and commitment to our customers is second to none.
4.8 Stars on Google
A+ Rated BBB
Angles List Super Service Award Winner 5 Years In a Row
Serving the Fort Lauderdale community since 1994
Full Service Plumbing & Remodeling
Available For Emergency Plumbing Services 24/7
New Customers Save $25 on their 1st Service Call!
What Do Our Customers Say About Us?
100% Customer Satisfaction
To ensure 100% customer satisfaction for our Fort Lauderdale customers, our dependable and professionally trained staff undergoes ongoing training and certification to stay on the cutting edge, while providing you with the best in service and technology.
Our principal objective is to provide the very best in customer service and satisfaction, the most highly regarded professional staff of experts, and the safest and most environmentally friendly products available to our clients. Customer satisfaction on every job performed is our company's main goal, and we want our customers to feel like part of the Terrano family, knowing they will be cared for throughout the entire service.
Call us at 561-477-3197 or click below to learn more today!