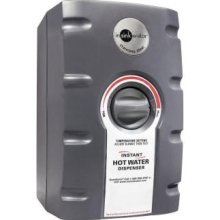 Terrano Plumbing and Remodeling is your source for Instant Hot Water systems.
At Terrano Plumbing and Remodeling we install InSinkErator®'s Instant Hots and service all instant hot water brands. Contact Terrano Plumbing and Remodeling, a Licensed Professional for all your instant hot installation or service needs.
InSinkErator®'s Instant Hot Water Dispenser saves time and adds elegance to the kitchen. Near-boiling water at your fingertips — perfect for making gravy, melting chocolate or quickly preparing pasta. Also double-functions to remove candle wax from holders and quickly clean dirty pots and pans.
Consider how often you heat water. When you do, you'll realize just how much you would use an instant hot water dispenser. It's truly unrivaled in the kitchen when it comes to the number of tasks that are easily and quickly performed. And that's exactly why millions of people have installed them.
When you want instantaneous hot water for that cup of hot tea, contact the professionals at Terrano Plumbing and Remodeling, your licensed instant hot water installers. We are ready to serve you!