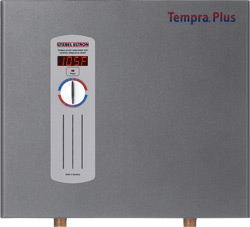 Terrano Plumbing and Remodeling is your tankless water heater specialist.
Whole House Electric Tankless Tempra Plus Steibel Eltron:
Terrano Plumbing and Remodeling proudly endorses Steibel Eltron as the #1 tankless electric water heater. We have promoted Steibel Eltron at our Green Expo trade shows throughout South Florida. We have installed the whole house Tempra models and have had nothing but great success with them. Our clients are amazed at the cost savings along with the continuous flow of hot water. With their electronic circuit panel the unit is super quiet. It can be installed in an interior closet and replace that old tank type water heater. You will have peace of mind knowing there is no tank to fail and flood out your home.
So when you are ready to Go Green and Save Some Green $$$, contact Terrano Plumbing and Remodeling,your licensed professional, for all your tankless water heater needs.
Save Energy and Reduce Your Electric Bill
Electric tank type water heaters are subject to stand-by losses which amount to 15 – 20% of the KWH used. In addition, water in a tank has to be heated hotter than necessary to account for these stand-by losses. Changing to a tankless system like the Tempra® eliminates these problems and results in typical savings of at least 15 – 20% on the hot water portion of your electric bill.
Control Temperature By Setting a Dial
Set the knob on the front cover and enjoy water temperatures between 86°F (30°C) and 120°F (49°C). Change the desired temperature at any time. Advanced microprocessor technology ensures that the water temperature never deviates from the set point. With proven reliability, Stiebel Eltron has an enviable track record of engineering excellence and product quality. The three years parts warranty is unique in the industry. You can depend on the Tempra® for many years to come. By nature of the design, the Tempra® is nearly 100% efficient; converting 100% of the electrical energy it consumes into heat. All that heat is then transferred to the water – none is lost to the outdoors.
Point of Use Electric Tankless DHC-E Steibel Eltron:
Tired of Waiting for Hot Water at your Sink? Let Terrano Plumbing and Remodeling install a point of use Steibel Eltron Tankless hot water heater. The DHC-E model will provide instantaneous hot water at that location. It is so compact it fits right under the vanity and will supply endless hot water to both sinks. If you're like most homes in South Florida the furthest bathroom from the hot water heater can take about 30 seconds or longer for the Hot water to reach the sinks. You're wasting valuable water and electric. You can conserve water, energy and save money with a DHC-E point of use Tankless water Heater. Go Green and Save Some Green $$$.
Simple Plumbing System Design
There is no need for a T & P valve, drain or mixing valve. The design of the hot water plumbing system gets very simple and straight forward due to the advances introduced with the DHC-E.
Superior Reliable Performance
The DHC-E has two temperature sensors and one flow sensor which feed their readings into the unit's proprietary microprocessor control. Three heating elements are engaged in stages, achieving the temperature you desire. The DHC-E continually monitors the water temperature it produces. DHC-E Tankless Electric Water Heaters deliver instant hot water. To learn more, visit Stiebel Eltron USA.
Gas Tankless Water Heaters
Terrano Plumbing and Remodeling proudly endorse Noritz Gas Tankless water heaters as the #1 gas tankless in the industry for residential and commercial applications.
The Noritz Burner
For years, tankless gas water heaters have utilized the single flame burner technology. As the leader in tankless technology, Noritz has recently introduced the dual flame burner. No other tankless manufacturer offers this technology. The dual flame burner actually has a second row of burners which burns the escaped gas from the first row of burners, resulting in an increased level of efficiency, stabilizing temperature fluctuations and boosting the performance of the flow rate. This is the latest in tankless technology.
Premium Quality Tankless Water Heaters
When it comes to quality, Noritz takes no short cuts in producing the highest quality tankless water heaters. Unlike other manufacturers, Noritz does not outsource the main components of their heaters. They manufacture nearly 100% of the parts that go into their heaters. They even make the heat exchanger's copper tubing from raw copper. This allows Noritz to have the highest quality control of all the heater's parts and components.
Tankless Water Heaters Are Green
Noritz NR66, NR71, NR98, and NRC111 series are ENERGY STAR Rated. Earning the Energy Star means products meet strict energy efficiency guidelines set by the U.S. Environmental Protection Agency and the Department of Energy. Noritz green water heaters will achieve around a 30 percent reduction in energy use and save consumers approximately $108 annually, compared to traditional tank water heaters. Currently the United States is the world's largest energy consumer in the world, and for that reason is also the largest source of global warming pollution.
The U.S. emits more carbon dioxide than China, India and Japan, combined. 25% of the carbon dioxide pollution produced by the U.S. comes from fossil-fuel burning. Replacing traditional tank water heaters with Noritz green water heaters will greatly reduce the levels of CO2 emitted into the atmosphere by at least 700 lbs. per year. By reducing the levels of CO2 emitted into the atmosphere from products we use in the home, we will stop the effects of global warming. By switching to more energy efficient appliances and equipment, we can reduce the demand for electricity and cut carbon dioxide pollution from power plants. So contact Terrano Plumbing and Remodeling, South Florida's 1st licensed Green Plumber for all your gas tankless water heater needs.
Professional Tankless Water Heater Installation
Since Noritz tankless units are high-capacity performance water heaters, we need to ensure that the units will be handled by certified professional installers for proper installation and warranty coverage. At Terrano Plumbing and Remodeling we are Licensed and Insured Plumbing contractors serving Boca Raton and the surrounding areas. We are certified Noritz's installers and can handle all you gas installation needs for residential and commercial applications. Contact us today to learn more!