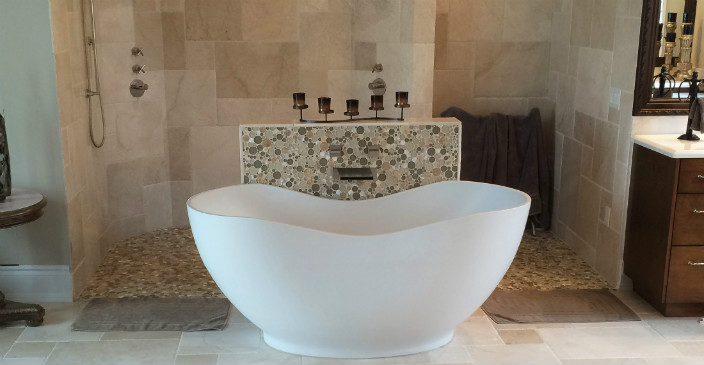 Is your shower showing signs of a leak?
Are you starting to see separation, mildew or loose tiles on your shower floor and walls?
Do you want to remodel or update your shower area with a curbless entry?
Whatever your needs, Terrano Plumbing and Remodeling will completely transform (or fix) your shower with a new barrier free/curbless entry or a traditional PVC Shower Pan Liner and finish it off with beautiful ceramic tile of your choice.
How it works?
First, we tear everything down to the studs to ensure the underlying structure is safe and not rotted.
We preslope the shower floor to attain the proper pitch.
We then can install a PVC shower pan liner in the base of the shower or a laticrete curbless/barrier-free shower.
Next we pitch the liner or curbless entry with Mortar to attain the proper pitch to the drain.
Finally we install Ceramic tile of your choice to ensure everything looks and functions great!
Each job is unique to your shower and we make the entire process as easy as 1,2,3 – we'll come out and assess the shower, provide measuring, installation, & handle any permits. PLUS, our PVC shower liners and curbless barrier-free entries last virtually forever.
Terrano Plumbing and Remodeling is your shower pan specialist.
Why Choose Terrano Plumbing & Remodeling?