By calling 561-477-3197 or or contact us today, you will be connected with Terrano Plumbing and Remodeling's quick, professional, and knowledgeable plumbing team of experts. Your search for a reliable and dependable plumber in Hollywood, Florida, is over. Terrano Plumbing and Remodeling can handle all of your needs from plumbing installation and repairs to full kitchen and bathroom remodels, you can put your trust in the capable hands of the experts to give you peace of mind.
Terrano Plumbing and Remodeling strives to provide our clients in Hollywood throughout Broward County with top-notch workmanship, expert service, and proven results that are certain to exceed expectations.
Terrano Plumbing and Remodeling is a family owned business located in South Florida that offers full service plumbing, bathroom remodeling, and kitchen remodeling to our clients. We are fully licensed and insured, and our team of professionals is comprised of the most experienced and capable technicians in the industry. Stop paying top dollar for unqualified plumbers and remodeling teams. Now is the time to finally work with a true professional, call us at 561-477-3197 or contact us today to see the difference.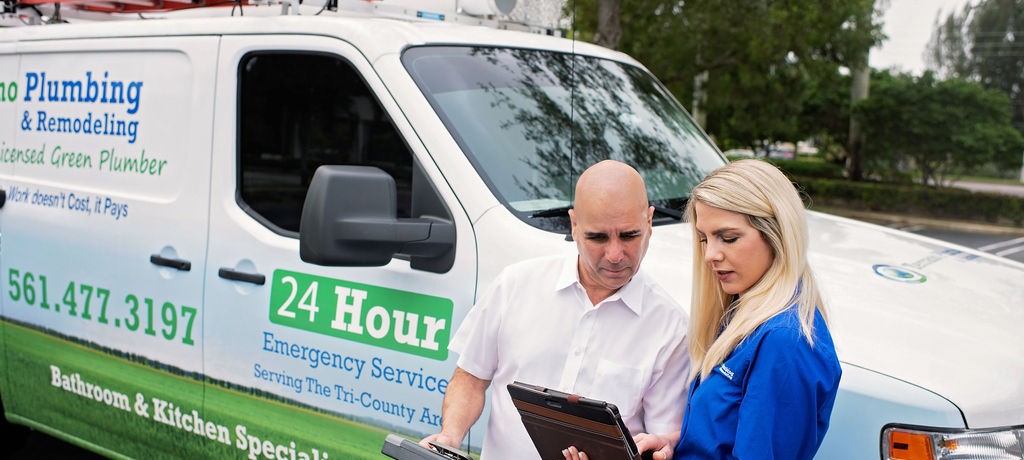 As South Florida`s 1st Licensed Green Plumber, we are proud to promote environmental plumbing results, and we are a founding member of the Green Plumbers USA licensing program. By putting your confidence in our experienced team of professionals, you not only will go green, but also save some green. Our accomplished team can review your plumbing systems to improve for efficiency, minimizing your environmental impact, while saving you money. As a Licensed Green Plumber, we assist homeowners and businesses with examining their water and energy spending, further providing responsibility and reassurance for maintained efficiencies. Ask us how you can Go Green, Save Some Green.
We offer a variety of plumbing services in the Hollywood area:
REQUEST PLUMBING SERVICE IN HOLLYWOOD NOW!
Why Choose Terrano Plumbing & Remodeling?
When you work with Terrano Plumbing and Remodeling, you are choosing to work with a team of plumbing and remodeling professionals that consistently sets the industry standards at its highest peak. Our attention to detail and commitment to our customers is unrivaled in the industry and is further proven by our reviews, awards and referrals.
4.8 Stars on Google
A+ Rated BBB
Angles List Super Service Award Winner 5 Years In a Row
Serving the Hollywood community since 1994
Full Service Plumbing & Remodeling
Available For Emergency Plumbing Services 24/7
New Customers Save $25 on their 1st Service Call!
What Do Our Customers Say About Us?
100% Customer Satisfaction
To ensure 100% customer satisfaction for all our Hollywood customers, our highly reliable and professionally trained team undergoes ongoing certification and training, ensuring that our finger is on the pulse of changing trends and technologies that will enhance your home or business.
Our number one goal is to provide only the best in customer service, satisfaction and the knowledge of a job well done. Our team of technicians is the most educated and well-trained in the region, and our knowledge of environmentally friendly products and solutions sets us apart from any industry competitor. We guarantee and strive for 100% customer satisfaction at every step of the job, and your confidence in us is our overall mission.
Call us at 561-477-3197 or click below to learn more today!