If you are searching for fast, affordable plumbing services or remodeling services, the professionals at Terrano Plumbing and Remodeling are here to help. Call (561) 477-3197 to schedule an appointment for your service needs today.
Our entire team at Terrano Plumbing and Remodeling provides exceptional plumbing installation and repair, as well as bathroom and kitchen remodeling. We are a family owned business located in the heart of South Florida. We offer full service plumbing, bathroom remodeling, and kitchen remodeling as a fully licensed and insured company maintaining the highest industry standards. Terrano Plumbing and Remodeling professionals are the most knowledgeable and talented craftsman in the industry. Call us at 561-477-3197 or contact us online today to start your project with the best specialists in the industry, we are only a call or click away.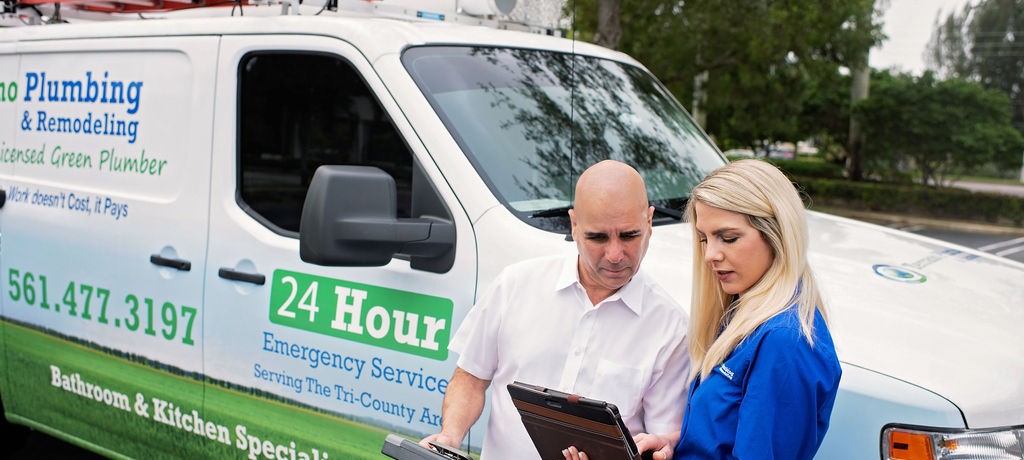 As South Florida`s 1st Licensed Green Plumber, we are proud to offer eco-friendly plumbing solutions that provide a positive impact on our environmental footprint, as well as the public health. Terrano Plumbing and Remodeling is a founding member of the Green Plumbers USA licensing program. Our industry professionals are leaders in the groundbreaking program that results in reduced energy and ongoing water savings for consumers and businesses throughout the nation. Learn how you can go green while saving some green with Terrano Plumbing and Remodeling.
We offer a variety of plumbing services in the West Palm Beach area:
REQUEST PLUMBING SERVICE IN WEST PALM BEACH NOW!
Why Choose Terrano Plumbing & Remodeling?
When you work with Terrano Plumbing and Remodeling, you are in the capable hands of the industry's most experienced and knowledgeable professionals. Our attention to detail and commitment to our customers is second to none.
4.8 Stars on Google
A+ Rated BBB
Angles List Super Service Award Winner 5 Years In a Row
Serving the West Palm Beach community since 1994
Full Service Plumbing & Remodeling
Available For Emergency Plumbing Services 24/7
New Customers Save $25 on their 1st Service Call!
What Do Our Customers Say About Us?
100% Customer Satisfaction
To ensure 100% customer satisfaction for our West Palm Beach customers, our highly reliable and professionally trained staff undergoes continuing education and training, resulting in the most current trends, technologies, and products for our clients.
Our mission is to provide the very best possible service, the most highly trained and professional staff, and the most environmentally friendly products available. Customer satisfaction on every job performed is our company's primary goal.
Call us at 561-477-3197 or click below to learn more today!