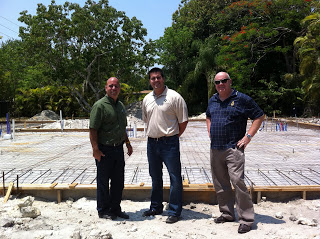 Terrano Plumbing and Remodeling was very happy to be selected as the Green Plumbing Contractor for the Tin House for Holly Zickler & David Rifkind. Terrano Plumbing and Remodeling is South Florida`s 1st Licensed Green Plumber since 2009. The Home of Holly Zickler & David Rifkind had some very complex plumbing designs. The water supply in the home was all piped in Pex by Viega. All water closets were Caroma water sense toilets. We installed a Graywater system by Brac for reclaim water from the bathtubs that also flush all the water closets (Toilets). We also installed a Rain Water Harvesting system by Norwesco that converts the rain water to potable drinking water, pretty cool.
Holly Zickler & David Rifkind have an ultra violet water filtration systems (3) three stage that filters the rainwater before converting to potable water. This had to be approved and tested by the EPA before all systems were switched on. We also installed a RPZ to protect the potable water system from any cross connection with the rainwater harvesting system. This system is designed so that when the pressure drops below 35 PSI on the rain water system that the city water automatically engages. We were very pleased to be involved Holly Zickler & David Rifkind and wish them well in their new energy efficient home.
View the project gallery below and do not hesitate to contact us for more information!